Clean Streams and Clean Cars
Follow the tips below to protect surface and ground water quality while keeping your car sparkling.
What are you washing off your car? It's more than just dirt.
Dirty, grimy rinse water contains oil, heavy metals and harsh chemicals. From your driveway, this water often flows untreated directly into streams, lakes and Puget Sound. These contaminants can harm fish and wildlife and even seep into our groundwater, which is the source of most of our drinking water. You can keep your car and the streams clean.
Take your car to a commercial car wash:

The dirty water from commercial car washes goes to a treatment facility run by the LOTT (Lacey-Olympia-Tumwater-Thurston County) Clean Water Alliance. Clean Water Alliance.
If you do wash your car at home:

Park your car on the lawn or over gravel where the dirty wash water can seep into the ground and not run down the storm drain. (Be careful not to park over your septic system or drain field.)
Choose a low- or no-phosphate biodegradable car wash soap.
Empty your wash buckets in sinks or toilets that are connected to the sanitary sewer system. (If you have a septic system, you can pour the dirty wash water over your lawn.)
Consider Charity Car Wash Alternatives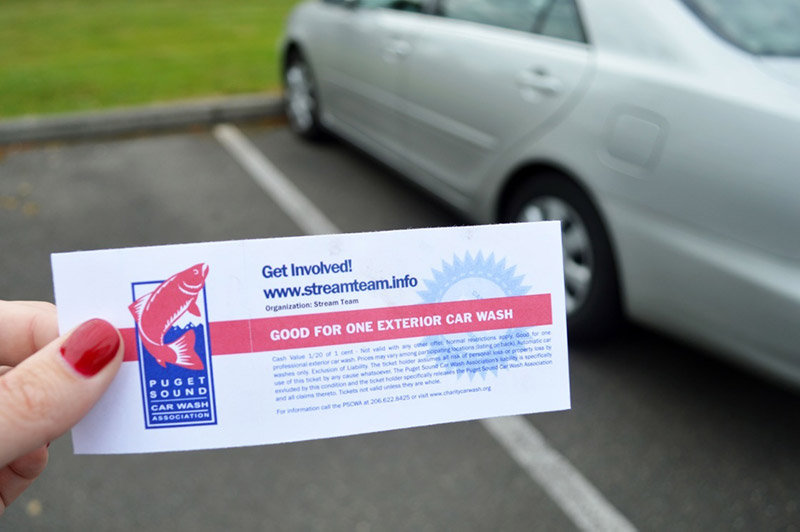 Charity car washes are intended to raise money for good causes, yet they are often unknowingly held at locations where the dirty wash water can run off into stormwater catch basins and eventually into our streams, lakes and Puget Sound.
Don't worry, there is a way to raise money with a car wash that will keep our streams clean: Sell commercial car wash tickets. For more information, go to the Puget Sound Car Wash Association charity car wash website: www.charitycarwash.org
Your group can also consider these water-friendly fundraising ideas:
Sell eco-friendly products such as reusable shopping bags or water bottles. Try featuring your own artwork or group logo.
Partner with a local business to host a bingo or trivia night and share a portion of profits from the evening.
Hold an auction. Include items such as themed gift baskets or lunch with leaders of your group.